MY STYLE
COVID: Colors Often Vivid Inspire Daily
Things are happening all around us – we mourn now and will continue to mourn who and what we've lost. But we can recognize the impact without giving it power. We are getting through this tough time together – and our clothes can help us along the way.

Summer trends usually include lighter, brighter colors, and this year's trends do not disappoint. Neon highlights have stayed for the past year and continue to grace designer and major department store collections. Colors appear in comfortable cotton, satin, lace, and rayon.

If you've ever wanted to try bright colors, now is the time. (And for my melanated sisters, these colors look great on our skin. They just pop, okay?).
See outfit suggestions below.
#PriscillaOneXEloquii: Oldie But Goodie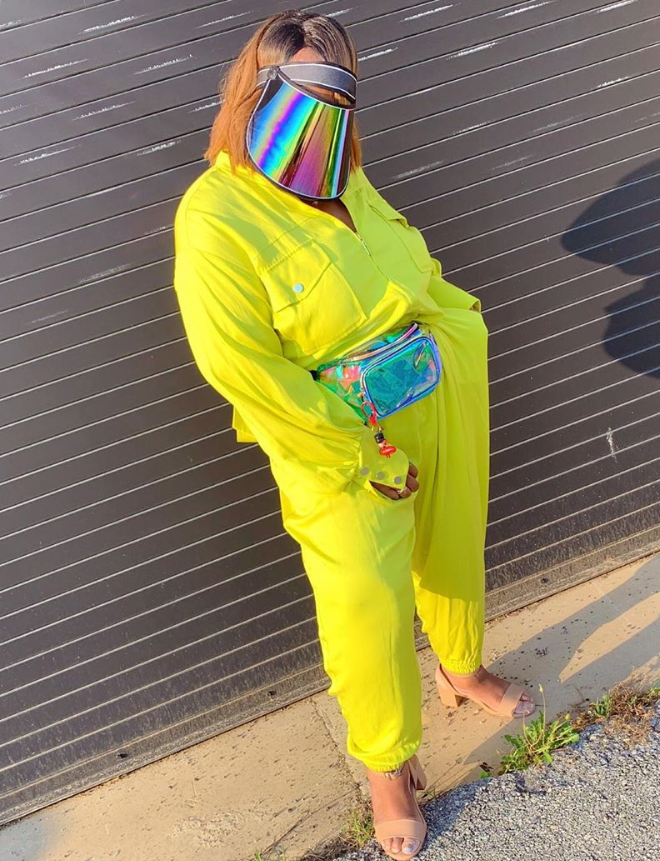 This jumpsuit was a crowd favorite when it first came out – and I JUST got my hands on it from Poshmark. So for those of you who missed out the first time like me, keep searching.
I tried this on when it first came out, so I knew how I wanted to style it. I snagged it in a size too big for an oversized look. By adding an iridescent, see-through fanny (a cute version linked) and an iridescent visor (linked from Amazon), this look is for now and the future!
Loud in Leisure
When I tell you I love this outfit by #ZelieforShe, I am not exaggerating. The outfit is super comfy – a stretchy, rayon and cotton blend. The colors make you stand out ANYWHERE, even in your house. And, the monochromatic, simplistic look of the outfit is instantly fashionable and chic.
Go get yours now. I have it in neon pink and lime green. #supportblackdesigners
CushnieXTarget: A Fashionable First
This past June Carly Cushnie launched her first capsule collection for Target. The collection is ultra-feminine, flirty, and soft, and features diverse colors and soft satin fabrics. She's the first Black woman to do such a thing with Target.
As soon as I heard of the collection, I knew I had to try a piece. I haven't had the pleasure of seeing Cushnie's collection at NY Fashion Week (ahem, Cushnie's PR company, lol), so getting access in this way was right up my alley! And, with a $50 price tag, the options were in a comfortable range for me. (And I have to mention the sizes went all the way up to 22!)
Which one of these looks was your fav? Let's use fashion to reclaim COVID – at least the acronym.
Sending love, light, health, and of course, lewks to everyone.